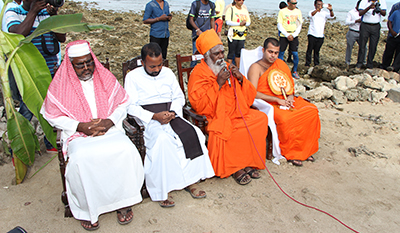 Sri Lanka is a multi-religious country. 
Buddhists
 comprise 70 per cent of the population. Most Buddhists are of the Sinhalese ethnic group. Buddhism was introduced to Sri Lanka in the 2nd century BCE by Venerable 
Mahinda
. A sapling of the 
Bodhi Tree
 under which 
the Buddha
 attained enlightenment was brought to Sri Lanka during the same time. The 
Pāli Canon
 (
Thripitakaya
), having previously been preserved as an oral tradition, was first committed to writing in Sri Lanka around 30 BCE.
Hinduism is the second most prevalent religion in Sri Lanka and predates Buddhism. Today, Hinduism is dominant in Northern, Eastern and Central Sri Lanka.
Islam is the third most prevalent religion in the country, having first been brought to the island by Arab traders over the course of many centuries, starting around the 7th century CE. Most Muslims are Sunni who follow the Shafi'i school. Most followers of Islam in Sri Lanka today are believed to be descendants of those Arab traders and the local women they married.
Christianity reached the country through Western colonists in the early 16th century. Around 7.4% of the Sri Lankan populations are Christians, of whom 82% are Roman Catholics who trace their religious heritage directly to the Portuguese. Sri Lankan Tamil Catholics attribute their religious heritage to St. Francis Xavier as well as Portuguese missionaries. The remaining Christians are evenly split between the Anglican Church of Ceylon and other Protestant denominations.