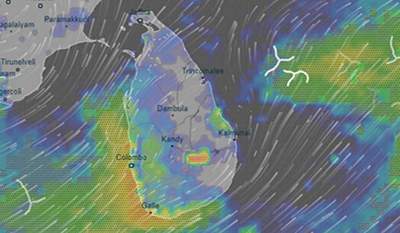 Sri Lanka's weather is tropical and climatically the island is divided into two zones: The dry zone that spreads over the Northern plains, North central plains, Eastern plains and the Northern and Eastern coastal belts. The Wet Zone that encompasses the South Western region and the single mountain mass of the island that is aptly called the Central Highlands.
Sri Lanka's weather patterns are generally well-defined. However the dramatic global climatic changes do make an impact on Sri Lanka too. So there are times that it can rain unexpectedly or you might experience a heat wave.
Colombo, Sri Lanka latitude & longitude; 6°54'N 79°52'E.
Altitude; 7 m (23 ft).
The average temperature in Sri Lanka is 27.0 °C (81 °F).
The warmest average max/ high temperature is 31 °C (88 °F) in April, May, June, July & August.
The coolest average min/ low temperature is 22 °C (72 °F) in December, January & February.
Sri Lanka receives on average 2,397 mm (94.4 in) of precipitation annually or 200 mm (7.9 in) each month.
On balance there are 188 days annually on which greater than 0.1 mm (0.004 in) of precipitation (rain, sleet, snow or hail) occurs or 16 days on an average month. The month with the driest weather is January when on balance 88 mm (3.5 in) of rain, sleet, hail or snow falls across 8 days.
The month with the wettest weather is October when on balance 354 mm (13.9 in) of rain, sleet, hail or snow falls across 21 days.
Mean relative humidity for an average year is recorded as 79.8% and on a monthly basis it ranges from 75% in January to 83% in October.